türkçe
links to original Turkish article
(HaberTürk Newspaper, 8 June 2018)
After listening to Van Halen, he just got carried away.
JUMP! Actually, more positively motivational than
suicidal.
Yesterday in Antalya there was a frightening suicide attempt
and it turned out that the same scene had played out the day
before, as well. C.A. had argued with his wife and went to the
'falez' (cliffs) along the shore, threatening to jump. Citizens
notified the police and C.A. was talked down.
However, C.A. argued with his wife again yesterday and
brought his son S.A. (6) with him to Yavuz Özcan Park. He
asked a citizen to "look after my son" and then headed for
the 'falez' about 50 meters away. Police arrived to find the
jumper they had talked down the day before threatening to
jump again.
Didn't know Dad was such a rock (cliff) fan.
This time, C.A. actually did jump but was picked out of
the water by a police boat and brought to shore (!). C.A. was
taken to a hospital but had no broken bones or other injuries.
Police found S.A. in the park and took him to the Children's
Bureau.
The 'falez' in Antalya.
---------------------------------------------------------------------------
türkçe
links to original Turkish article.
(Sözcü Newspaper, 8 June 2018)
The Van Halen Metro Bride over the Golden Horn.
Two Syrian friends were walking on the Metro train bridge over
the Golden Horn in Istanbul yesterday and made a bet about
jumping into the water. Then, one of them took off his shirt and
shoes and jumped in. The youth swam for a bit but then began to
sink, screaming for help.
Onlookers took to a boat to try to save the drowning youth but
to no avail. Shortly afterwards a police boat arrived at the scene
and picked the unconscious boy out of the water. Meanwhile,
the other youth, having witnessed the jump, had a nervous
breakdown. The jumper is in critical condition at a local hospital.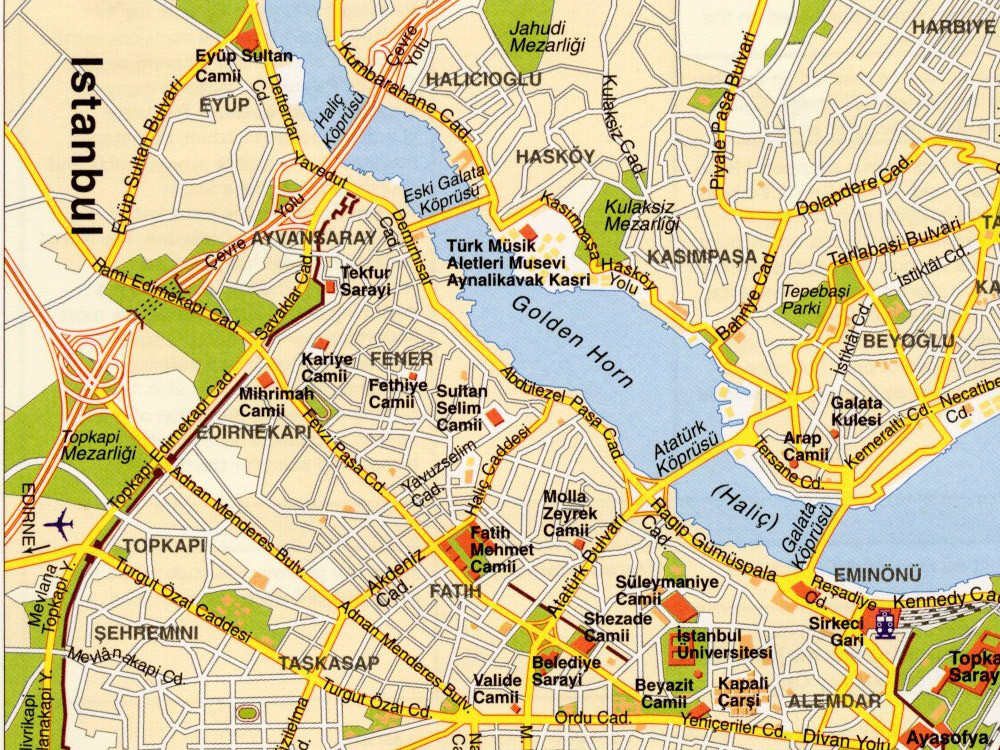 Metro bridge not shown on this old map but it's
between the Galata and Atatürk Bridges.