türkçe
links to original Turkish article
(Milliyet Newspaper, 20 June 2018)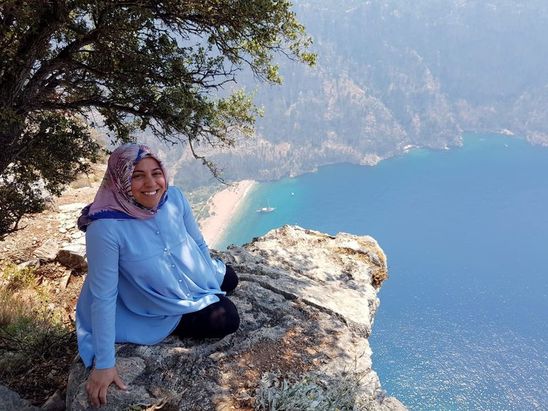 Semra Aysal (32), 7 months pregnant, was having her picture taken
at Kelebekler Vadisi (Butterflies Valley) in Fethiye district of Muğla
province when she lost her balance and fell 300 meters, losing her
own life and that of her unborn baby, whose body was found
separately from Semra hanım's.
Semra hanım had come from Izmir for a vacation in Fethiye the day
before yesterday with her husband. At a rocky spot at Faralya village,
the couple descended 10 meters to a rock where there was a nice view
of the valley. As Semra hanım was taking a selfie, though, she lost
her balance and plunged to the rocks 300 meters below.
Final resting place for mother and child.
Her husband summoned help and an AFAD (search & rescue) team
arrived to retrieve Semra hanım's body and that of her child. But
since there was no road nearby, it took 2 hours to carry the bodies
to a boat and after that, another 20 minutes to get to the Ölüdeniz
lagoon.
AFAD member İbrahim Mete Kaplan explained that they used a
drone to locate Semra hanım's body and then four rescuers descended
on ropes. Kaplan added that "it's a very distressing incident. The
mother and the baby were in separate places. There are certain
places in Kelebak Valley where people shouldn't go." Mehmet
Tufan Aydın of Fethiye's UKME (medical rescue team) office
said the entire operation lasted 8 hours.