turkce
links to original Turkish article
(Sabah Newspaper, 5 August 2014)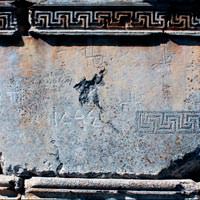 Good Graffiti
The digging period at Aizanoi Antique City has begun
quickly. The ancient city has been given the title "Second
Ephesus" by art circles because of it cultural make-up
and the fact that it houses the best-preserved Temple
of Zeus in the world. The new digging season began in
June and during the first few days, as the walls of Zeus's
Temple were being cleaned, previously unseen figures
belonging to the Cavdar Tatars emerged.
The city was under the hegemony of Bergama, Bithniya
and the Romans before the appearance of the Cavdar
Tatars there in the 13th century A.D. The pictures
scratched into the temple walls shed light on the Turkish
period of the region and include scenes of cavalrymen
carrying horsetail standards, hunters, lute players and
many others, reflecting the lifestyle of the Cavdar Tatars.
The first excavations at Aizanoi, which is in Cavdarhisar
district of Kutahya province, were begun by the German
Archeological Institute in 1926 and have been continued
systematically each year since 1970. The current dig is
being conducted by Prof. Dr. Elif Ozer of Pamukkale
University.
Ancient Aizanoi is in Kutahya province.
=======================================
turkce
links to original Turkish article
(Sabah Newspaper, 5 August 2014)
Hey, who's supposed to be the superior mammal??!!
Yuksel Unal, director of culture and tourism in Samsun has
announced that some fossils have been found in an unused
lignite quarry in Ladik district. The fossils were discovered
in the quarry, which was operated by a private firm for many
years but which has been idle for the past 10 years.
Unal explained that the fossils in question were found four
years ago and turned over to the Natural History Museum of
the Mine Investigation and Search (MTA) organization.
According to Unal, "when the scientists first examined the
fossils they determined that they were those of Mediterranean
mammoths. They understood this because among the fossils
was one showing a back upper right molar tooth, which is
characteristic of these animals. We were advised that
determining the age of the fossils would require further
analysis. So we kept in contact with MTA and the fossils
were examined for about a year."
The fossils were determined to be from a mammoth that
lived 2 million years ago.
Ladik district is in southernmost Samsun.