turkce
links to original Turkish article
(Sozcu Newspaper, 23 August 2014)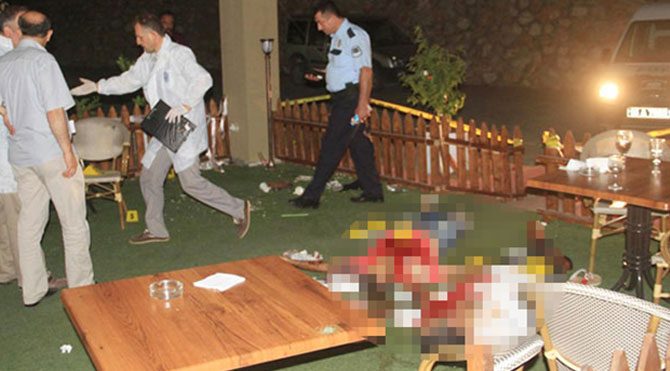 Good time had by all...
In Orhangazi district of Bursa province, a group of friends were sitting
together in a cafeteria. Among the group were Serkan Karatas (40) and
Fuat Ishak (39) who began arguing. The disagreement between the two
childhood friends balooned into an all out brawl among the 10-person
group, first with fists flying and then rifle and gun fire exchanged.
Karatas, president of the Yalova-Ciftlikkoy Drivers Association, and Fuat
Ishak both died at the scene. Ilhan Karatas (30), Suat Ishak (46) and
Nermin Ishak (37) were wounded in various places. Police arrived the
cafeteria to find a war zone and health teams administered first aid, taking
the wounded to hospitals. Police reinforcements were called in from Bursa
and the Orhangazi Public Prosecutor has begun an investigation into the
incident. Police took four people into custody.