turkce ile video
links to original Turkish article
(Hurriyet Newspaper, 24 August 2014)
Surprise underground city mayor Mustafa bey conducts a tour.
Mustafa Bozdemir, a Turkish father of six who lives in France,
inherited a one-story house in Agirnas hamlet, where (the great
Ottoman architect) Mimar Sinan was born and raised, 5 years
ago. Agirnsa hamlet is in Melikgazi district, 27 kilometers from
the provincial capital Kayseri.
When Bozdemir came to look at the house he discovered while
cleaning it that there were 4 additional stories of the house below
ground - essentially an underground city. He informed the Kayseri
Governor's Office and the Ministry of Cuture and Tourism and
the building was investigated.
Bozdemir received permission to excavate the underground city,
for which an exact date cannot be given although it is estimated
that the city dates from the Roman Period. Bozdemir had this
to say: "we have finished about 80% of the excavation and we've
encountered various ruins, most of which are human bones. A
team from Erciyes University, Kayseri, is conducting an investigation."
Area in question outlined in Kayseri map.
==============================================
turkce
links to original Turkish article
(Sabah Newspaper, 24 August 2014)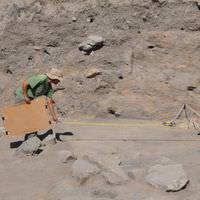 We'll assume our professor is doing something archeological.
An excavation at the historic Cadirhoyuk in Peyniryemez village of
Yozgat province, has been ongoing for 21 years and the findings show
that 6 or 7 different civilizations lived in the region. The head of the
excavation team, Prof.Dr. Gregory McMahon of New Hampshire
University, stated that "the most important thing that we've found are
walls. In addition, we found a 5,000 year old statue of a bull."
Peyniryemez village is in Sorgun district in central Yozgat.