turkce
links to original Turkish article
(Sabah Newspaper, 2 August 2014)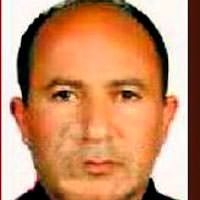 Murderer A.A. and murderee Turgut T.
State worker Turgut T. (46), a resident of Maltape, Istanbul,
left home on 26 May saying that he was "going to Ankara for
training." After not hearing from her husband, Turgut T.'s
wife contacted police who then checked Turgut T.'s cellphone
records and video images from MOBESE (street surveillance)
cameras.
Police were able to determine that Turgut T. had in fact gone
to Izmir by car and the following day from there on to Didim
district of Aydin province. Alongside Turgut T. was his
friend A.A. (47) with whom Turgut T. had a debt problem.
Police also learned that A.A. brought Turgut T.'s car to
Igdir (on the Armenian border in far eastern Turkey). The
car was found abandoned in Igdir. A.A. subsequently hid
himself in Eregli district of Konya province but was
ultimately taken into custody by a 8-person police team as
he departed Istanbul.
Murder suspect A.A. lives in Aydin and he had persuaded
Turgut T. to come to Aydin to discuss the debt Turgut T.
owed to A.A. Confessing to the crime, A.A. explained
that during an argument he had smashed an axe into
Turgut T.'s skull, killing him. A.A. then dumped Turgut T.'s
body in a wooded area of Didim, where police subsequently
found it.
After disposing of Turgut T.'s body, A.A., a native of Agri
(near Igdir in far eastern Turkey) had brought Turgut T.'s
car to Igdir in effort to steer police in the wrong direction.
Izmir and Aydin are in Turkey's far west, Igdir
and Agri in its far east and Konya right in the
middle, south of Ankara.