turkce
links to original Turkish article
(Sabah Newspaper, 4 August 2014)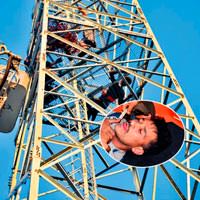 Can't a guy just have a drink in peace!
Ersin Cevik (40) climbed a bas station tower in Sehzadeler
district of Manisa province and drank alcohol, ultimately
passing out. Police and firefighters arrived at the scene
after citizens had alerted them to a possible 'suicide'. Cevik
did not want to come down but was eventually persuaded
to do so.
The incident occurred the day before yesterday at 1700
near the Kume houses in the Ahmet Bedevi neighborhood.
Cevik, a master ironworker who has a job at a workshop,
climed up the new 50-meter high tower in order to drink
alcohol there. After some time citizens on the ground noticed
Cevik and assumed that he was suicidal so they called police.
Teams arriving at the scene found Cevik passed out at the
30-meter level of the tower. Cevik opened his eyes only with
difficulty but then resisted coming down for the next three
hours. His relatives came to the scene and calmed Cevik down.
Firefighters could not get their ladder to the point where Cevik
was located so he was taken down on a stretcher by means of
a winch and moved to Manisa State Hospital. Cevik's brother
Ercan Cevik explained that his older brother, a batchelor, "has
no problems. I think he just preferred this place because it's so
hot out.""
Sehzadeler district is within Manisa Merkezi, the capital city.