turkce
links to original Turkish article
(Sabah Newspaper, 7 August 2014)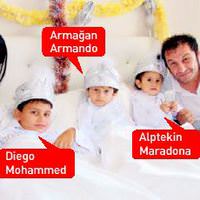 Better learn how to play football boys...
A father in Edremit district of Balikesir province has
given his three sons the names "Diego", "Armando"
and "Maradona" because of his affection for the
legendary Argentinian football star, and has had
them all circumcised.
Tekin (33) and Sevcan Senturk, who live in the town
of Altinoluk in Edremit district, are enjoying the
happiness that comes from having their sons
circumcised. The event was a simple one held in
their home for their sons, whose names are "Diego
Mohammed", "Armagan Armando" and "Alptekin
Maradona".
Diego Armando Maradona
Family elders and some other close friends and
relatives attended the ceremony. Tekin Senturk
explained that he was born in Germany and lived
there for many years, emigrating to Turkey a year
and a half ago for good. Senturk added that he has
idolized Maradona since childhood and shared the
star's name with his children, who were all also
born in Germany.
Diego Mohamed is 8 years-old, Armagan Armando is
3 and Alptekin Maradona is a year and a half old.
Senturk stated that "my children have been circumcised.
We're very excited. It's a great feeling. May God grant
all boys and their mothers and fathers this joy."
Senturk wants his sons to be well educated and enjoy
happy marriages.
Edremit is Balikesir's westernmost district.