turkce
links to original Turkish article
(Posta Newspaper, 25 August 2014)
Chaise longues next on the ISIS hit-list??
ISIS (IShID in Turkish), which has occupied Mosul since 10 June,
declaring a caliphate, has updated its list of forbidden items, this
time banning the sale of pickles, vinegar and dried fruit and nuts.
ISIS members conducted an operation in the market in Mosul and
closed stores selling the forbidden items.
=============================================
turkce
links to original Turkish article
(Hurriyet Newspaper, 25 August 2014)
Where's Kosova?...let alone where's Mamusha.
(it's toward the SW of Kosova somewhere)
Mamusha, the only Turkish-majority town in Kosova, with a
population of 5,000 inhabitants, has awarded the "Turkish World
Service Award" to Turkish President-elect Recep Tayyip Erdogan,
new Prime Minister Ahmet Davutoglu and AKP Izmir representative
and Foreign Affairs Commission member Rifat Sait. Erdogan
participated in the award evening by phone and wished the
Mamush residents "all the best".
//ed. note: for those wishing to satisfy their curiosity about Mamusha...//
http://en.wikipedia.org/wiki/Mamu%C5%A1a
======================================== ======
turkce
links to original Turkish article.
(Sabah Newspaper, 25 August 2014)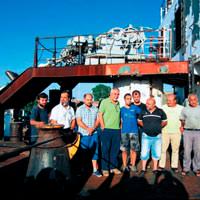 They've got their sea legs, and more
.
The Invitation to Islam Foundation in Montreal, Canada has come to
the rescue of 12 Turkish seamen who have been stranded on their ship
because of a dispute between the ship owner and the ship's company.
The Panamanian flagged "Phoenix Sun" (no relation to the basketball
team) is anchored in the port of Sorel.
Foundation chief Nazif Metin provided food to the 12-man Turkish
crew and met with Captain Semih Ozkan. The 12 Turks were brought
to Canada to take the "Phoenix Sun" (somewhere) in April but have
been stranded on the ship since then because of non-payment of
$60,000 to the port authorities.