turkce
links to original Turkish article
(Sabah Newspaper, 21 August 2014)
"Panda", as always, too cute for words.
In Bagcilar, Istanbul, Ahmet O, a.k.a. "Panda Ahmet",
the leader of a ferocious robbery gang, has been taken
into custody for the 28th time. Ahmet O. was arrested
along with suspect Faik S.
Allegedly, Ahmet O. stole luxury cars at parking lots
with keys he got from valets he bribed with money.
The vehicles were then broken up, phony documents
produced and then sold at below-market prices. Istanbul
police captured Ahmet O. and Faik S. the day before
yesterday after a gun fight in Bagcilar.
Ahmet O. has a record of 28 different crimes and there
are 4 separate robbery files related to him. Both Ahmet O.
and Faik S. were incarcerated.
=======================================
turkce
links to original Turkish article
(Sabah Newspaper, 21 August 2014)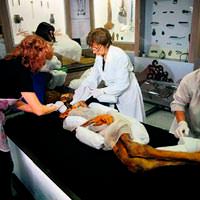 Global Warming's girlfriend.
A mummy removed from its grave in the autonomous Altay
Republic of Russia in 1993 will be-buried because of
the belief that it has been causing disasters. An 'elders
delegation' is of the view that the 2,500 year old 'Ice
Virgin' mummy is responsible for the increase in natural
disasters.
The delegation stated that the Ice Virgin's soul has been disturbed
by investigations conducted on her at the museum where the mummy
is being displayed. Consequently, the decision was made to return
the Ice Virgin to her grave.
Where in the world is the Altay Republic? Now you know.