turkce
links to original Turkish article
(Sabah Newspaper, 15 August 2014)
"Wake us when we land."
An Indian Jet Airways passenger plane escaped great
danger in Turkish airspace when the pilot fell asleep
and the co-pilot was distracted while playing with his
tablet computer. The Boeing 777-300 rapidly lost altitude
but, fortunately, the Ankara control tower crew
warned the plane in time for a correction to be made.
According to reports in the Indian press, the Jet Airways
9W-228 serial number plane was making a trip from
Mumbai to Brussels on 8 August when the unexpected
mishap occurred in Turkish airspace. With the pilot asleep
and the co-pilot playing with his tablet, the plane, flying
at 10,350 meters, made a 1,500 meter uncontrolled
descent.
The Ankara tower crew noticed that the Indian plane
had fallen to another aircraft's designated altitude and
went into action, alerting the (suddenly awakened!) pilots
to take corrective action.
The Indian airliner's crew did not inform the Indian
Civil Aviation Authority of the incident. However, an
anonymous message to the Authority has initiated an
investigation and both pilots have been relieved of
duty pending the results of the probe.
========================================
turkce
links to original Turkish article
(Sabah Newspaper, 15 August 2014)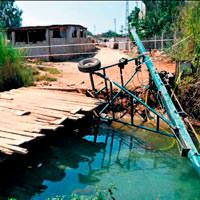 Murphy's Law takes effect in Tarsus.
In Mersin's Tarsus district, four people fell into a canal
when a wooden bridge collapesed while they were
trying to move a farming machine across it. The crashing
farm machine hit and broke an irrigation motor and an
electrical cable from the motor electrified the water in
the canal.
Cousins Halil Demir (23), Mehmet Selim Demir (27) and
Serdar Demir (24), along with their relative Mustafa
Kayaalp (23), fell into the canal when the bridge collapsed.
All four were electrocuted and taken to the Ozel Medical
Park and Tarsus State Hospital. Mehmet Selim Demir
and Mustafa Kayaalp died despite all efforts to save them.
Tarsus is Mersin's easternmost district.