türkçe
links to original Turkish article
(Sözcü Newspaper, 10 August 2016)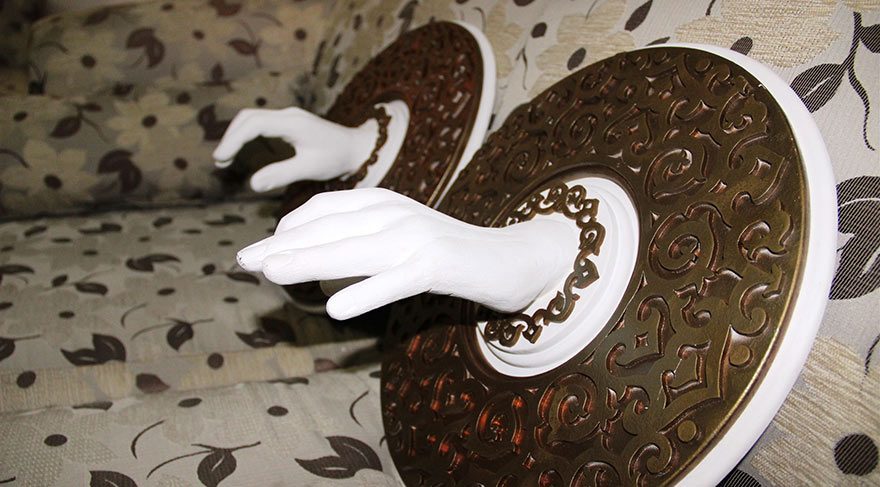 The word that comes to mind is 'creepy'.
In Izmir, a secret room has been found in the recently seized
Yamanlar Schools building of the Fethullaçı Terrorist Organızation.
When a string is pulled in the ceiling of a clothes closet a door
opens to allow access to the secret room.
Inside the secret room a strong box with notes that read "2800
dollar" and "3200 dollar" taped to it was found. Additionally,
in the so-called "Şark köşesi" (East corner) room, there was a
military camouflage uniform with the Turkish flag on the chest
section and an upside down sergeant insignia on the arm.
Another pair of sacred hands.
The secret about the 'hands' found in the room was quite shocking.
The hands were made from plaster casts of the hands of Fethullah
Gülen, the coup mastermind, 'Exceptional students' in the Yamanlar
Schools would swear fealty to Gülen in the room after finishing
war college and then kiss the hands (!),
But ain't nothing like the real thing, baby.
------------------------------------------------------------------------------
türkçe
links to original Turkish article
(Hürriyet Newspaper, 10 August 2016)
Uluer and friend.
Sefa Doğan, a commercial pilot, and his friend Fatih Emin Kar, an
Istanbul fireman, set out from Adana on their new motorcyles on 18
July, heading for Ankara. When the pair reached Nevşehir they
stopped at a hot air baloon tour firm to ask for directions at about
1930 hours.
Just then, the firm's owner, Halil Uluer, noticed that Doğan was
wearing a pilot's jacket and the other fellow had a short haircut.
Uluer, who once was a parachute and mountain commando in the
Turkish army, asked the two motorcycle riders where they were
coming from. When he heard 'Adana', he pulled out his licensed
revolver.
Uluer explained what happened to Hürriyet: "First I asked them if
they were soldiers and they hesitated in answering. Then I asked
'are you pilots?' and they said 'yes'. So I thought that they were
coup-plotters escaping from İncirlik Air Base in Adana. I had my
gun out and my watchman took his out too."
"The fellow who said he was a pilot said he worked for a
commercial airline and he tried to show me a picture of himself
from the day before in the cockpit and his ID, as well. I said
'friend, I don't know if you're telling the truth or if you're one of
the traitors. If you're a putschist you'll pay the price and if you're
not I'll buy you dinner.' Then I called the provincial Gendarmerie
Commander Metin Alkaya."
Everybody has to have a hero.
The motorcycle riders were taken to the Gendarmerie post, where
it was determined that they had no role in the aborted coup and
were released. They declined Uluer's dinner invitation and went
on their way. No action was taken against Uluer and his watchman.
As for Uluer's background, besides his military exploits, he studied
economics at Kiev National Taras Shevchenko University in
Ukraine, where he earned a Ph.D. in Entrpreneurial Economics.
He is the honorary consul of Kazakhstan in Nevşehir. While at a
fair in China, he captured a famous thief and was awared a medal
of bravery the the Peoples Republic of China. He is also the
cousin of Abdullah Catlı, an ultra-nationalist with a checkered past,
who died in the infamous Susurluk accident in November 1996.