türkçe
links to original Turkish article
(HaberTürk Newspaper, 24 August 2016)
"What? I was hungry."
Last week Hasan Yeniçırak of Çamlıhemşinli district in Rize
province, drove his 450-head herd of livestock up into the
Palovit Valley in Kaçkar Mountains National Park at an
altitude of 3,200 meters (?). The herd was attacked by foxes,
with some of Yeniçırak's animals killed. 25 goats escaped but
got lost in the fog.
Yeniçırak sought help from local people but the search for the
missing goats was fruitless. Then, a 5-person AFAD (search
& rescue) team arrived to scour the rocky cliffs of the valley.
After 7 hours, 12 goats were found taking refuge at 3,000 meters.
The nearby forest is now being searched in an effort to locate
the remaining 13 goats.
-----------------------------------------------------------------------
türkçe
links to original Turkish article
(HaberTürk Newspaper, 25 August 2016)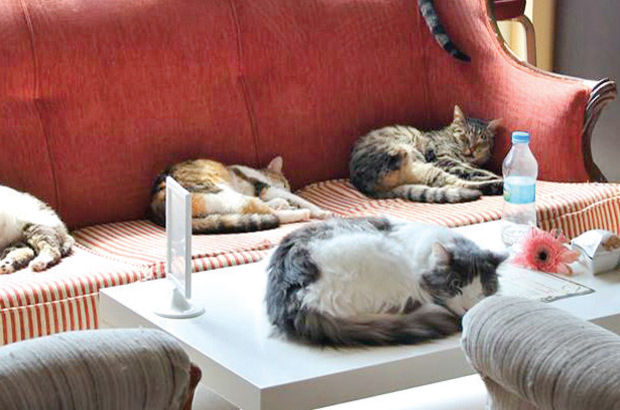 "What? We're lazy."
Cat cafés first opened in Japan and then spread to Europe
(and Washington DC), intended to attract people who couldn't
keep pets in their homes. The first one to open in Turkey,
though, is in danger of closing down.
Café de Kedi opened in Tepebaşı, Eskişehir, 4 years ago and
is host to 19 cats. Café owner Özlem Ersan has seen a steep
decline in customers lately and she lamented that "we opened
Café de Kedi by getting a bank loan. Most of our customers
are university students. At first we were quite popular but
interest has waned, compounded by the uncertain situation in
the country now."
"It's costly to take care of the cats and bring them to the vet.
We're in a bind right now and we're fending off closure.
Hopefully, animal lovers will come to our rescue." A related
campaign has begun on social media.
Eskişehir province