türkçe
links to original Turkish article
(HaberTürk Newspaper, 12 October 2017)
Starring in the sequel "S for Stupid".
In Bursa's Yıdırım district, K.Ç. (17), H.G.(19) and A.K. (19), watched
the film "V for Vendetta" and then bought masks like the one worn by the
lead actor in the film from a stationary store. The boys also got hold
of a fake gun and tried to rob an auto glass shop. However, after hitting
52 year-old shop owner D.İ. with the butt of the gun, the robbers ran
from the shop empty-handed.
Freedom may have to wait a while.
Police reviewed 55 separate security camera images and tracked down
K.Ç. who admitted that he and the two other boys had undertaken the
failed robbery. All three were arrested.
Bursa province
------------------------------------------------------------------------------------
türkçe
links to original Turkish article
(Sözcü Newspaper, 12 October 2017)
Her father always wanted her to be a banker...
Istanbul anti-narcotics teams began following an international drug
gang that was bringing cocaine to Turkey from South America affixed
to the hull of a ship. A few days ago a diver from the gang retrieved
the cocaine from underwater as the ship was in the open sea at Darıca,
in the Gulf of İzmit, and brought the drugs to the gang's villa.
The cocaine was hidden in a trunk in the villa on the Darıca shore.
When police raided sites in Avcılar and Pendik in Istanbul, as well
as in Darıca, a Turkish woman was arrested, together with 6 gang
members from the Dominican Republic and Venezuella.
Boyfriend M.A.A. and his diving gear.
The Turkish woman, D.H., who works as a banker, transported the
cocaine in secret compartments in her two cars. Police determined
this from surveillance of D.H. continually filling both cars with
18 liters of gas. There were also secret compartments integrated
into the radio area of the cars, where D.H. kept a gun. In total,
police siezed 70 kilograms of cocaine, worth $15 million.
Besides D.H., police arrested her Dominican boyfriend M.A.A.
and Venezuelans J.R. and C.E., along with other suspects.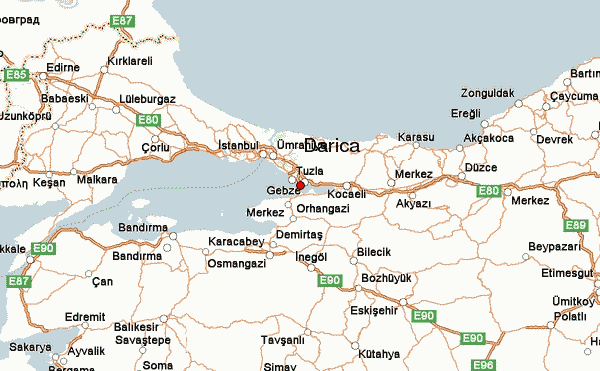 Darıca is at the red dot on the map.