türkçe
links to original Turkish article
(Sözcü Newspaper, 22 March 2017)
Istanbul's water is good, but not THAT good.
A citizen living in Manisa was surprised to get a water bill from
Istanbul. Adın Atbaş (80) received a 183.93 TL (about $50) from
the Istanbul Municipal Water Works (İSKİ), with a pay-no-later-than
date of 5 April. İSKİ threatened Atbaş with garnishment if he did
not pay on time.
Atbaş lives on the 719 TL social security check he receives once
every three months and has no other income. Reacting to the İSKİ
bill, Atbaş said that "I don't even know the way to Istanbul. If this
debt is mine I'll sell my house to pay it. When I saw the bill by
blood pressure went up. I take medicine. I don't know what I'll do."
İSKİ's bill contained this Atbaş-only water pipeline route as proof.
----------------------------------------------------------------------------------
türkçe
links to original Turkish article
(HaberTürk Newspaper, 22 March 2017)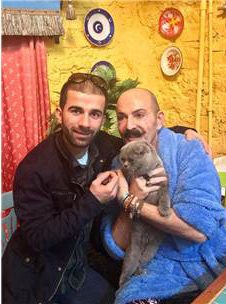 Guess which one is the fashionista.
Famous fashionista Cemil İpekçi has been reunited with his cat
Maço after the feline disappeared in Bodrum 5 months ago. Maço
was put up for sale on the internet by animal thieves, who put a
price of 1,300 TL on the cat. An animal lover, Murat Tevetoğlu,
bought Maço and returned the cat to İpekçi.
When Maço first disappeared, İpekçi thought the cat might have
been stolen so he filed a complaint with the public prosecutor and
asked for help on social media. İpekçi's manager noticed that the
cat had been purchased online by an animal lover, Tevetoğlu. The
manager got in touch with Tevetoğlu, who returned the cat to
İpekçi.
Megastar Tarkan Tevetoğlu's karma must have played a role.