türkçe
links to original Turkish article
(Milliyet Newspaper, 13 April 2017)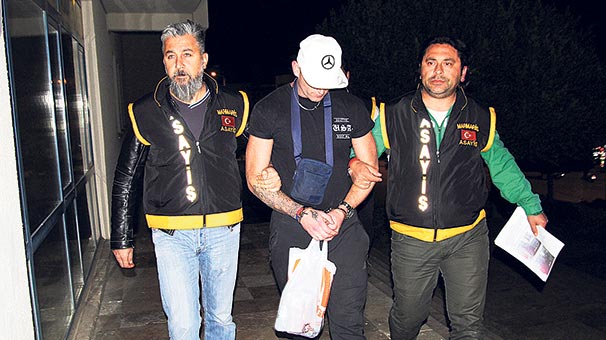 Used the famously Irish "I was really drunk" defense.
The day before yesterday toward morning, a fire broke out in a
yacht moored at the Marmaris Yacht Marina. The fire spread to
two other boats and Ekrem Gökçe (63) died in one, while Türker
Demir was injured in the other. Marmaris police suspected arson
and began looking at surveillance videos.
Police determined that two minutes prior to the fire starting, an
individual left the yacht with a TV in his hand and began walking
along Kordon Avenue, where he met up with his girlfriend. Police
tracked the suspects' car and intercepted them near Turunç village.
What Billy and Rosie did on their vacation.
Billy Clark, an Englishman of Irish descent, and his girlfriend Rosie
Patricia Glover were taken into custody. In his statement, Clark
explained that "I was really drunk. I saw the empty yacht and boarded
it to rest. When I argued with my girlfriend I left the yacht but I don't
remember how the boat went on fire."
Clark was arrested and Glover was released but forbidden to leave
Turkey.
Turunç (quite a lovely place) is directly south of Marmaris.
------------------------------------------------------------------------------
türkçe
links to original Turkish article
(HaberTürk Newspaper, 13 April 2017)
Occupation: Hunts for prey at the airport.
Deniz Kul (39), who returned to Istanbul from America, was the victim
of thieves who followed her from Atatürk Airport to her home. On 10
February Kul and her baby took a taxi from the airport to her home in
Şenlikköy, which is close to Atatürk.
As Kul and her infant got out of the taxi they were approached by a
woman and a young girl who offered to help Kul with her baggage.
After the two left, though, Kul realized that she was missing her
handbag, in which there were jewels worth $290,000 (!).
Police reviewed surveillance footage and determined that Kul had
been followed from the airport. The owner of the car, Yunus Emre
Ş., told police that he lent the car to Vildan G., who said she had a
sick friend. Shortly afterwards Vildan G. and the young girl S.T.
were apprehended.
Vildan G. denied the charges but S.T. related that "I went to the airport
with Vildan, where we tracked people with children, the elderly and
people who seemed to need assistance. Vildan gave me 300 TL for being
with her. We followed a woman with an infant from the airport and
with the pretext of helping her carried her suitcases."
The jewels have not been recovered but Vildan G. was sent to jail,
while S.T. was released.