türkçe
links to original Turkish article
(HaberTürk Newspaper, 6 April 2017)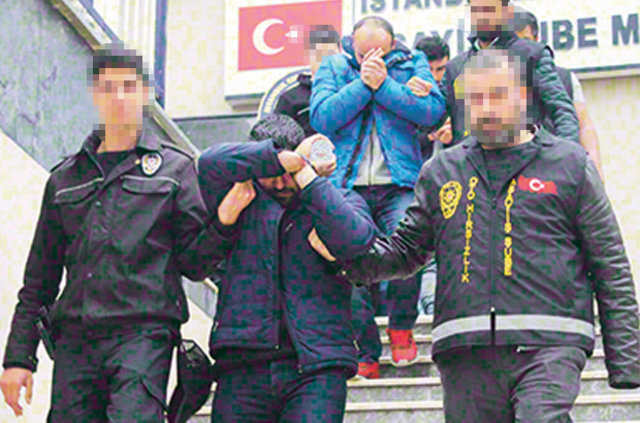 If only they'd used their genius for good...
In Istanbul, Ahmet A. informed police 6 months ago that his car
had been stolen. He explained that "a week before it was stolen someone
hit my car while it was parked and left a note that read 'I'm sorry I hit your
car. Call me and I'll get it fixed.' I called the number and the guy turned
out to be a body shop owner (!). I brought my car to him and he said
'please excuse me, my mother-in-law was sick and I was rushing around
when I hit your car.' So I gave him my car to be fixed."
This story raised the eyebrows of police, who put body shop owner
Erdal E. under technical and physical surveillance. Police determined that
Erdal E. was the leader of a car theft ring and that his right-hand man was
Güven A. (35), a teacher at a school for autistic children (!) in Çanakkale.
The gang used a code system to communicate, as follows: license plates
were referred to as 'eyeglasses , tin can'; cars as 'girl, donkey, child'; a
Dacia brand car as 'Quaresma'; police as 'uncle'; transporter as 'Harry
Potter' and a damaged car as 'body'. As to modus operandi, the gang
purchased wrecked cars cheaply and then hit cars of a similar make when
they were parked, as happened to Ahmet A.
When the car was being repaired the gang made a copy of the car key
and then stole the car a few days later, gave it the chassis number of a
wrecked car of the same make and sold the cars outside Istanbul. Police
conducted simultaneous raids against the gang in Istanbul, Ağrı, Kocaeli,
Konya, Çanakkale and Sinop and took Erdal E., Güven A. and 11 others
into custody. 40 cars were seized, as well.
Nationwide gang ops controlled from Istanbul and Çanakkale.
------------------------------------------------------------------------------------
türkçe
links to original Turkish article
(Milliyet Newspaper, 6 April 2017)
Murat Ç. just assumed that he would be the lucky prize winner.
A car that was brought to a shopping center in Beylikdüzü, Istanbul,
to be exhibited for a prize drawing was stolen 6 months ago, as it
was waiting to be put in its show place.
As part of a police operation called "Türkiye Huzur" (Peace of Mind
in Turkey), police stopped a suspicious vehile in the Fatih district of
the city and determined that the license plate was fake. The driver,
Murat Ç. (44), was taken into custody and the car was found to be the
one stolen from the shopping center last October. Murat Ç. denied
the charges but was taken to jail anyway.