türkçe
links to original Turkish article
(Milliyet Newspaper, 24 April 2017)
Asst. Prof. Mustafa Aksoy of Marmara University's History Department
has shared the results of his 20 years of research into Tünceli and Pülümür
with Milliyet. One of his major findings is that the Russian army attacked
the Dersim region (another name for Tünceli) in 1916 during the First
World War, contrary to accepted history.
Aksoy explained that "In our history books and official historical accounts
it is accepted that the Russians came as far as Erzincan and stopped there,
without attacking Tünceli. However, as the result of the research I have
been doing in the area since 1997, I have determined that the Russian
occupation forces attacked Uzunevler village in Pülümür district in 1916."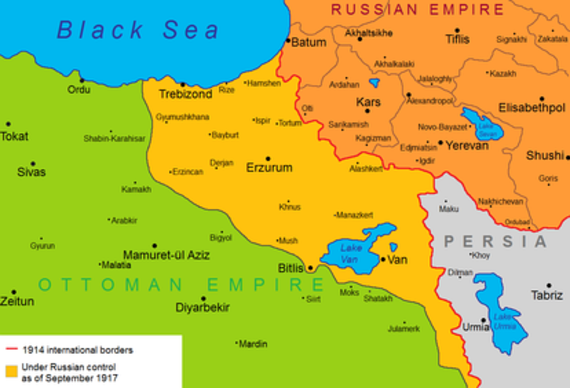 "In other words, the Russians wanted to occupy Tünceli, too. There were
very violent clashed between the Russians and the Dersim fighters at
Kızılköprü along the Erzincan-Tünceli road. The fighters turned back
the Russians but lost many men, whose bodies were swept away in the
river (Pülümür Stream). However, the graves of brothers Mustafa Çelik,
son of Gal, and Şeh Huşen Çelik, along with that of Hıdır Çelik, son of
Musa, have been located on the bank where the fighting took place."
Kırmızıköprü is south of Pülümür.
As for the ram head gravestones found in the cemetery, Aksoy said that
"the ram head statues first appeared in the ancient geography of the Turks
in Hakasya (Khakassia), Yenisey and South Siberia. The headstones
were thought to symbolize bravery and protect against evil. The first such
headstones, which are exclusively of ancient Turkish heritage, were found
by Russian archeologists at Hakasya in 1722. These headstones show that
there are many Turks in Tünceli in a biological sense. Many elderly
people in Tünceli say that their ancestry is from Horasan (present-day
eastern Iran-western Afghanistan, along the Turks' migration route
from Central Asia.)"
Khakassia Russian Republic, from whence the Turks emerged.
Khorasan region