türkçe
links to original Turkish article
(HaberTürk Newspaper, 8 April 2017)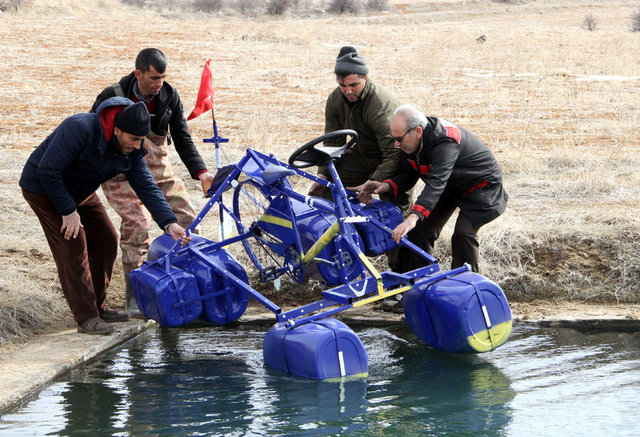 "Hey, some guy named Elon Musk is calling..."
In Baskil district of Elazığ province, Mehmet Kükey (45), Ercan Elamış
(32) and Emre Acil (28) built a sea-borne bicycle with pontoons but it
sank. The images of the three inventors' efforts were posted on social
media and made Turkey laugh.
The first try ended in failure but on the second attempt the three amigos
were able to keep the bike on the water level. The trio spent 3,000 TL
(about $750) on the project and named their invention "Safari 23". There
is a motor attached to the water-bike, as well.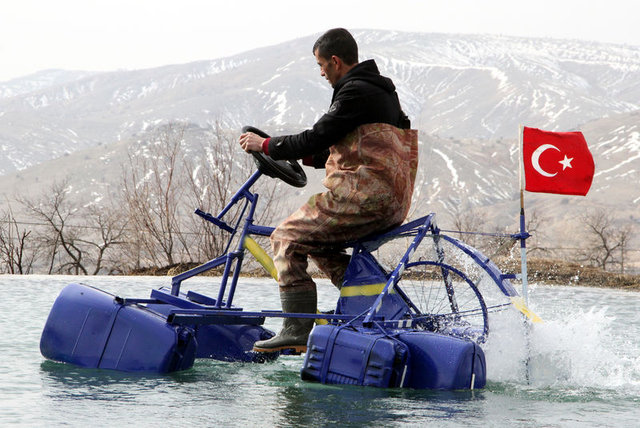 Now we know how Henry Ford felt.
Kükey explained that "because we all love hunting we called our
vehicle "Safari" and 23 is the number for Elazığ license plates. So far
we've spent 3,000 TL and it took us a week to make the water-bike.
We want to develop it but we need investors. The video broke records
on the internet but no one called to invest. If officials give us some help
we'll develop this machine."