türkçe
links to original Turkish article
(Sabah Newspaper, 2 July 2018)
Elif, Rıfat and Şahin Dayan
In Izmir's Kınık district, Elif Dayan (63) and her husband Rıfat Dayan
(65) were bludgeoned to death in their home. The Gendarmerie has
taken their son Şahin Dayan (28), who lived with them, into custody.
The day before yesterday, Burcu Dayan, who lives in Soma district
of Manisa province, wanted to inform her father-in-law Rıfat Dayan
that her grandfather had passed away so she called Rıfat bey at his
home in rural Cumalı village in Kınık. Burcu hanım called both Rıfat
bey and her brother-in-law Şahin but got no answer.
Burcu hanım then called Rıfat bey's neighbor Hasibe İlkazi and asked
her for help. Hasibe hanım called Şahin at his workplace, a cement
factory in Soma, but he told her that his parents had gone to a
relative's wedding in Hamzalı village. That evening, when Şahin
came to his parents' home he called the local village chief Tuncay
Ergün and told him that "a thief has broken into our house! My
mother and father are lying motionless on the ground!"
Gendarmerie arriving at the scene saw that Rıfat bey and Elif hanım
had been struck on the head with a heavy, blunt object. Based on
the swelling and decomposition of the couple's bodies, police
determined that they had been killed on Friday evening. In light
of Şahin's contradictory statements and the fact that he has a police
record for theft and sexual harassment, Şahin was taken into
custody.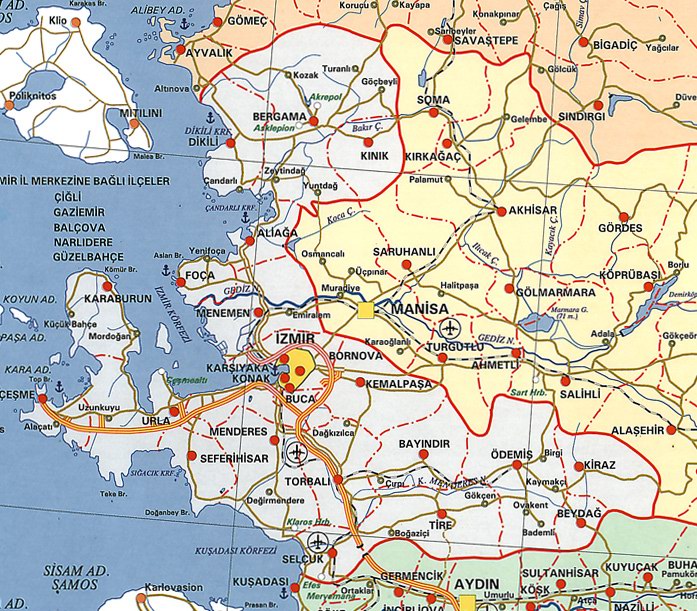 Kınık, in NW Izmir province is adjacent to Soma,
in NE Manisa province.