türkçe
links to original Turkish article
(Milliyet Newspaper, 30 March 2018)
The Notorious Four
,
In Istanbul, a 4-person gang, led by a notary, used fake documents
to get hold of the 25 million TL (about $6 million) inheritance left
by Dr. Hatice Güzin Göllü, who died 3 years ago. The grifters
prepared an adoption document signed by a judge who served 30
years ago and forged a handwritten note from Dr. Göllü, whose
monthly income was 60,000 TL. Presenting these documents to a
court the hoodwinkers were able to grab the money. However,
afterwards the changed lifestyles of the gang members prompted
tips to the police.
Dr. Göllü died on 16 December 2015 at age 88. When she passed
away Dr. Göllü owned 22 flats in Kadıköy, one in Moda, a third of
the ownership of a Kadıköy building. Also, she had 1,902.000 TL in
one bank account and $80,000 in another. Dr. Göllü had no heirs but
shortly after her death one Ahmet Kemerci, a body shop worker,
claimed to be her adopted son and provided the court with notarized
documents to this effect.
Kemerci and his friends notary Ayhan Kine - the scheme's mastermind,
Murat Gündogdu and Tamer Olağan began living the high life, prompting
someone to suggest to the court that Kemerci was not really Dr. Göllü's
rightful heir. Samples of Dr. Göllü's handwriting were compared to the
forged documents to prove them fakes. Police moved in and took the
four suspects into custody.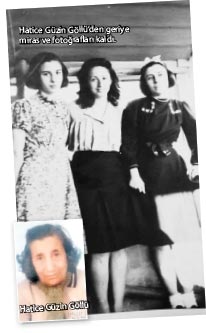 It's better that she never met her loving son.