türkçe
links to original Turkish article
(HaberTürk Newspaper, 31 March 2018)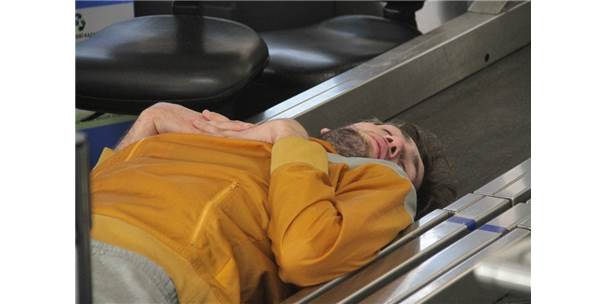 Hoop Dreams
Mehmet Şanlı's dream of flying to the USA and playing basketball in
the NBA has left him stuck at Atatürk Airport in Istanbul for months.
At night the young sportsman stretches out on the baggage conveyors to
sleep and fills his stomach with snacks given to him by airport workers.
Since Şanlı's story has hit the news, citizens have been flooding the airport
switchboard with offers of help.
Airport authorities explained that Şanlı's father has disowned him so they
are trying to find other relatives. Youth and Sports Minister Osman Aşkın
Bak stated that the Turkish Basketball Federation (TBF) has approached
Şanlı but the young man has shown no inclination to accept treatment.
TBF chief Hidayet Türkoğlu noted that "we have been working with the
ministry on this situation, which no one wants to see. Six months ago (!)
when we again found the young fellow at the airport we did what we
could to get treatment for him and ensure his livelihood. But when he
didn't conform to the treatment regime or take his medicine in a timely
manner the illness reoccurred."
Coach telling Şanlı to post-up under the arrivals-departure
backboard.
Şanlı's older brother Sertunç Özgüneş, whose mother is also Şanlı's,
stated that Şanlı's father was very violent in the home: "I remember
hiding in the closet out of fear. When Mehmet was 3 my step-father
grabbed him and threatened to throw him off the balcony. He's nuts.
16 years ago he broke my mother's nose. The illness has passed from
father to son. Mehmet should be put in a hospital right away."
Mehmet may be dreamng of Hollywood, rather than the NBA.
I smell a sequel...