türkçe
links to original Turkish article
(Milliyet Newspaper, 27 May 2018)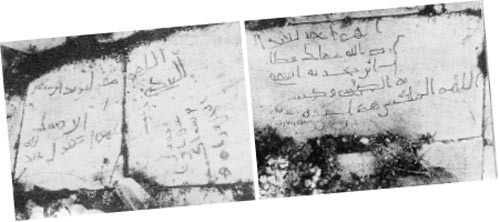 Unread for 1,300 years.
The first traces of Moslems in Anatolia have been found at Knidos
antique city in Datça, Muğla province. Dr. Mehmet Tütüncü, the
head of the Turk-Arab World Research Center, has been doing
research at the site, where Sostratus of Cnidos, the architect of the
Alexandria Light House, lived in the 3rd century B.C.
Dr. Tütüncü found eight Arabic inscriptions under rubble and
plants at Knidos and determined that they date from the year
715 A.D. The inscriptions reveal that an advance force of a
Moslem military expedition that would undertake the second
effort to seize Istanbul from the Byzantines in 717, had taken
Knidos.
Map depicting the area during the Moslem siege of
Constantinople-Istanbul in 7 17 A.D.
Dr. Tütüncü explained that "I think that Knidos was seized in
order to provide a resting/staging point for the Moslem forces
coming from the Middle East and North Africa to take Istanbul.
The Byzantines then living in Knidos were overcome and their
church was turned into a mosque. Moslems killed in the battle
for Knidos were buried in a cemetery there. After the failure of
the Istanbul siege, the Moslems abandoned Knidos in 717. We
think the returning Byzantines destroyed the mosque and the
cemetery. There are probably more documents and gravestones
belonging to Moslems yet to be found at Knidos."
Additionally, Dr. Tütüncü stated that "I encountered Arabic
texts on the stone pavement of the Byzantine church called
'Doric Stoa' at Knidos. The first Moslem naval commander
was Muaviye, the Omayyad ruler at the time of the first
attempted Moslem siege of Istanbul in 668 A.D., which
ended with the death of Eyyup el Ensari. Today, at Knidos
in Datça there is a sundial, a Temple of Apollo, the Corinth
Temple and a theater dating from ancient times. When an
excavation headed by İris Love dug here in 1969 the
Islamic material was not dealt with, so Turkish archeologists
will have to do the job."
İrisLove
a 1971 New York Times article about Iris Love.
The first Moslem siege of Istanbul was undertaken in 668 A.D.
but epidemics caused great losses in the Moslem forces and they
abandoned the siege the next year. The second siege in 717A.D.
was led by Caliph Süleyman İbn Abdülmelik and his brother
Mesleme İbn Abdülmelik and Moslem naval forces played a
major role. 'Greek Fire', incendiary bombs thrown at the
Moslem ships, however, repulsed the armada, saving Istanbul
once again.