türkçe
links to original Turkish article
(Milliyet Newspaper, 2 May 2018)
High & dry off Ordu; squinting and squeezed in Zonguldak.
In the open waters of the Black Sea off Ordu, a dolphin caught
in a fishing net was freed in a 3-hour operation, after fishermen
summoned the Coast Guard for help. Also, Maritime Products
Engineer Paşa Ali Kangal of the Fatsa District Food, Agriculture
and Animal Directorate, along with veterinarian Ebru Biçim,
arrived at the scene to lend a hand. After the dolphin was freed
from the nets and pins it was released into the Black Sea.
Meanwhile, in Zonguldak's Ereğli district, a hedgehog that got
stuck in a sewer grate was rescued by firefighters. Citizens who
saw the animal stuck in the grate on Bağlık Eser Street called
the Ereğli Fire Department and firefighters freed the hedgehog
from the grate in 15 minutes.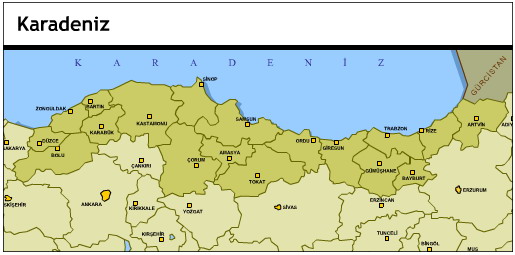 Zonguldak is on the coast, left; Ordu right of center.